GENERAL
Access to and use of this Website and the products and services available through this Website (collectively, the "Services") are subject to the following terms, conditions and notices (the "Terms of Service"). By using the Services, you are agreeing to all of the Terms of Service, which may be updated by us from time to time without notice. You should check this page regularly to take notice of any changes we may have made to the Terms of Service. Access to this Website is permitted on a temporary basis, and we reserve the right to withdraw or amend the Services without notice. We will not be liable if for any reason this Website is unavailable at any time or for any period. From time to time, we may restrict access to some parts or all of this Website without notice.
INFORMATION ABOUT US
"Dressing Paula", "us", "we" or "our" means DPL INTERNATIONAL Sdn Bhd, a company registered in Malaysia. Our company registration is 918648-D and our registered office is at TRIUM, 62, Jalan 8/91, Taman Shamelin Perkasa, 56100 Kuala Lumpur, Malaysia.

You can contact us by writing to us at enquiries@dressingpaula.com

If we need to contact you for service-related matters, we will do so by telephone or by writing to you at the email address or postal address you have provided to us in your order. "Writing" or "written" in these T&Cs includes emails.
INTELLECTUAL RIGHTS PROPERTIES
The copyright to all content on this website including applets, graphics, images, layouts and text belongs to us or we have a licence to use those materials.
All trademarks, brands and logos generally identified either with the symbols TM or ® which are used on this website are either owned by us or we have a licence to use them. Your access to our website does not license you to use those marks in any commercial way without our prior written permission.
Any comment, feedback, idea or suggestion (called "Comments") which you provide to us through this website becomes our property. If in future we use your Comments in promoting our website or in any other way, we will not be liable for any similarities which may appear from such use. Furthermore, you agree that we are entitled to use your Comments for any commercial or non-commercial purpose without compensation to you or to any other person who has transmitted your Comments.
If you provide us with Comments, you acknowledge that you are responsible for the content of such material including its legality, originality and copyright.
PRIVACY POLICY
These Terms of Service incorporate our privacy policy, which sets out how we will use your information, can be found at our Privacy Policy page. By using this website, you consent to the processing of information as described therein and warrant that all data provided by you is accurate.
PROHIBITIONS
You must not misuse this website.
You will not: commit or encourage a criminal offence; transmit or distribute a virus, trojan, worm, logic bomb or post any other material which is malicious, technologically harmful, in breach of confidence or in any way offensive or obscene; hack into any aspect of the Service; corrupt data; cause annoyance to other users; infringe upon the rights of any other person's proprietary rights; send any unsolicited advertising or promotional material, commonly referred to as "spam"; or attempt to affect the performance or functionality of any computer facilities of or accessed through this Website.
We will not be liable for any loss or damage caused by a distributed denial-of-service attack, viruses or other technologically harmful material that may infect your computer equipment, computer programs, data or other proprietary material due to your use of this website or to your downloading of any material posted on it, or on any website linked to it.
ACCESSING & USING THE SITE
As a condition of your access to and/or use of the Site, you warrant that:-
all information supplied by you on the Site is accurate, current and complete;
you are 18 years of age or older in order to access and/or use the Site; and
you will not copy or distribute any part of the Site in any medium without DessingPaula's prior written authorization.
You shall be solely responsible for your access to and/or use of the Site and its materials herein.
Where you create a user account and password, you must treat such information as confidential, and you must not disclose it to any third party. We reserve the right to disable any user account at any time, if in our opinion you have failed to comply with any of the provisions of these T&Cs.
LINKING TO THIS WEBSITE
You may link to our home page, provided you do so in a way that is fair and legal and does not damage our reputation or take advantage of it, but you must not establish a link in such a way as to suggest any form of association, approval or endorsement on our part where none exists. You must not establish a link from any website that is not owned by you.
This Website must not be framed on any other site, nor may you create a link to any part of this Website other than the home page. We reserve the right to withdraw linking permission without notice.
LINKS FROM THIS WEBSITE
If we link to other websites, we take no responsibility for the content of, and make no representations as to the accuracy of any third party websites we make link to from this Website.
DISCLAIMER OF LIABILITY
The material displayed on this Website is provided without any guarantees, conditions or warranties as to its accuracy. Unless expressly stated to the contrary to the fullest extent permitted by law DressingPaula and its suppliers, content providers and advertisers hereby expressly exclude all conditions, warranties and other terms which might otherwise be implied by statute, common law or the law of equity and shall not be liable for any damages whatsoever, including but without limitation any direct, indirect, special, consequential, punitive or incidental damages, or damages for loss of use, profits, data or other intangibles, damage to goodwill or reputation, or the cost of procurement of substitute goods and services, arising out of or related to the use, inability to use, performance or failures of this Website and any materials posted thereon, irrespective of whether such damages were foreseeable or arise in contract, tort, equity, restitution, by statute, at common law or otherwise. This does not affect DressingPaula's liability for death or personal injury arising from its negligence, nor for fraudulent misrepresentation, or any other liability which cannot be excluded or limited under applicable law.
INDEMNITY
You agree to indemnify, defend and hold harmless DressingPaula, its directors, officers, employees, consultants, agents, and affiliates, from any and all third party claims, liability, damages and/or costs (including, but not limited to, legal fees) arising from your use of this Website or your breach of these Terms of Service.
TERMINATION
We will determine in our sole discretion whether there has been a breach of these T&Cs through your use and/or access of the Site. When a breach of these T&Cs has occurred, we may take such action as we deem appropriate, including:-
Immediate, temporary or permanent withdrawal of your right to use and/or access the Site;
Issuing a warning to you;
Commencing legal proceedings against you for loss resulting from your breach; and
Disclosure to law enforcement authorities of such information as we reasonably deem necessary.
We exclude liability for any actions taken in response to breaches of these T&Cs. The responses described above are not exhaustive, and we may take any other action we reasonably deem appropriate.
VARIATION
DressingPaula shall have the right in its absolute discretion at any time and without notice to amend, remove or vary the Services and/or any page of this Website.
TERMS OF SALE
By placing an order you are offering to purchase a product on and subject to the following terms and conditions. All orders are subject to availability and confirmation of the order price.
Dispatch times may vary according to availability and any guarantees or representations made as to delivery times are subject to any delays resulting from postal delays or force majeure for which we will not be responsible. Please refer to our Delivery or Returns & Exchange pages for further information.
In order to contract with Dressing Paula you must be over 18 years of age and possess a valid credit or debit card issued by a bank acceptable to us. DressingPaula retains the right to refuse any request made by you.
1. Our Contract
When you place an order, you will receive an acknowledgement e-mail confirming receipt of your order. This email will only be an acknowledgement and will not constitute acceptance of your order. Unless otherwise provided for in these terms and conditions, you may not cancel or amend your order (including the delivery address, changes to colour or size, or removing items) after your order has been placed. Please ensure all details provided are full and correct at the time of order placement. A contract between us for the purchase of the goods will not be formed until your payment has been approved by us and we have debited your credit or debit card.
2. Pricing & Availability
Whilst we try and ensure that all details, descriptions and prices which appear on this Website are accurate, errors (including processing errors) may occur. If we discover an error in the price or payment of any goods which you have ordered we will inform you of this as soon as possible and give you the option of reconfirming your order at the correct price or cancelling it. If we are unable to contact you we will treat the order as cancelled. If the order is cancelled and you have already paid for the goods, you will receive a full refund.
Delivery costs will be charged in addition; such additional charges are clearly displayed where applicable and included in the 'Order Total'.
The Service may contain typographical errors or other errors or inaccuracies and may not be complete or current. We therefore reserve the right to correct any errors, inaccuracies or omissions and to change or update information at any time without prior notice. We reserve the right to refuse to fill any orders that you may place based on information on the Service that may contain errors or inaccuracies, including, without limitation, errors, inaccuracies or out-of-date information regarding pricing, shipping, payment terms, or return policies.
3. Payment
Our website accepts payments using all major credit card, e-wallets and online banking via major banks. Once your credit card has been validated, upon clicking "PLACE ORDER" we will debit your credit card immediately for the full order amount.
4. Discount/Promo Codes
We may from time to time offer promotional discount codes which may apply in respect of any, or certain specified, purchases made though this Website. The conditions of use relating to any discount code will be specified at the time of issue.
How to apply discount codes: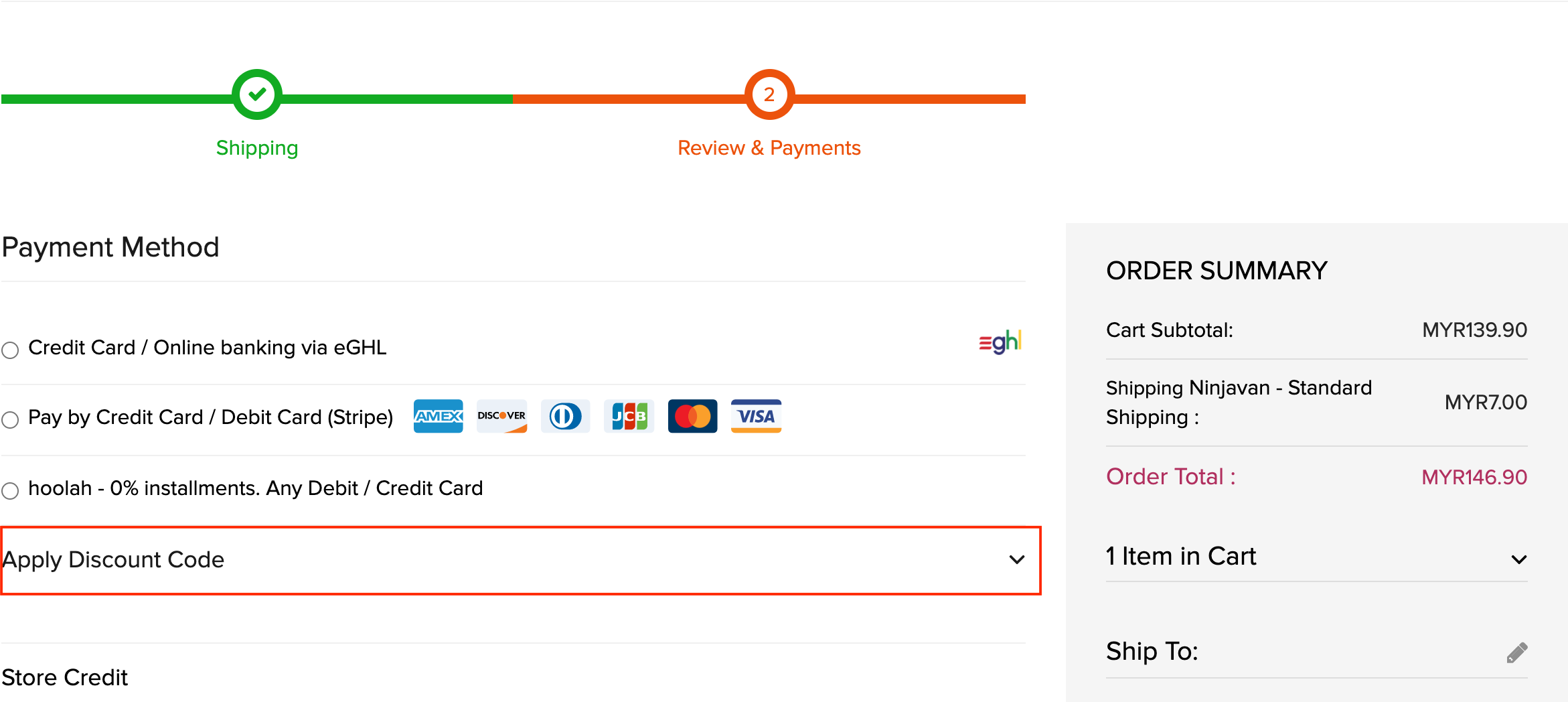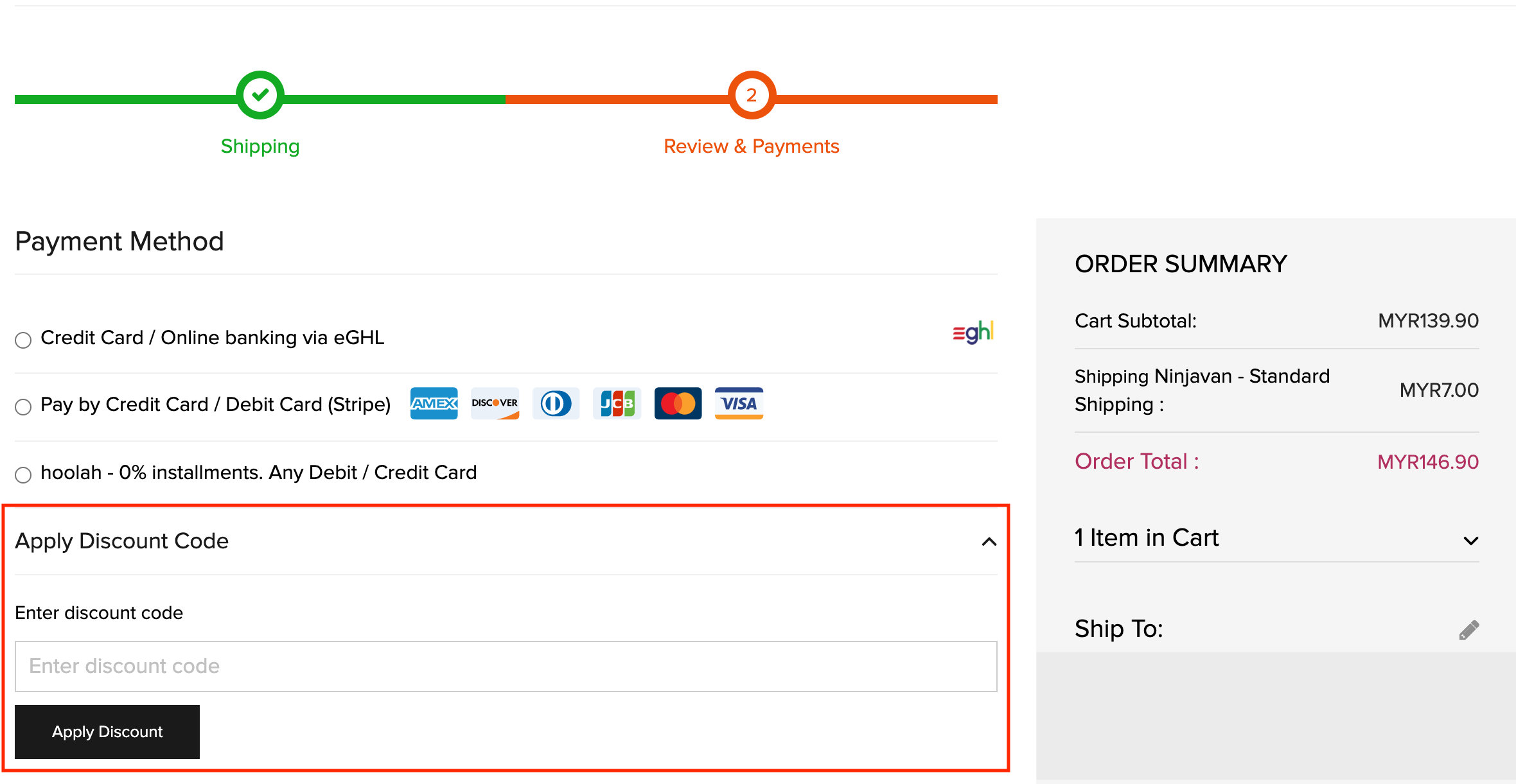 5. Termination
We may terminate the Order at any time by writing to you if:
You do not make payment to us when it is due;
You do not, within a reasonable time of us asking for it, provide us with information necessary for us to provide you with the Product (e.g. delivery address);
You do not, within a reasonable time, allow us to deliver the Product to you;
If we terminate the Order in the situations set out above, we will refund any money you have paid in advance for Products we have not provided, but we may deduct or charge you reasonable compensation for the net costs we will incur as a result of your breaking the contract.
PRODUCT DESCRIPTIONS
We strive to ensure that our products are described as accurately as possible on our website, however we do not warrant that the description is accurate. Where we become aware of any misdescription, we reserve the right to correct any error or omission.
Images have been provided for illustrative purposes only and we do not guarantee that any image will reproduce in true colour nor that any given image will reflect or portray the full design or options relating to that product.
Minor variations in measurement (within 0.8 inches) are not considered a defect. You are responsible for ensuring that your sizing measurements are accurate. If you believe you have received a defective item, at orders@dressingpaula.com with your order number, and a photograph of the defect.
Postage will be reimbursed for all items acknowledged to be defective. All defective items are to reach us within 14 calendar days from dispatch date for orders made in Malaysia. Items must be unworn, unwashed, unaltered, and with its tags intact. If the replacement piece is no longer in-stock, store credit or a refund will be issued.
PRODUCT RETURNS
Please refer to our returns policy for terms and conditions.
BOUNCED PARCELS
We'll be in touch via email in the event of a bounced parcel. However please note that, without prejudice to any other right or remedy available to us, we may charge you for storage costs and any further delivery costs, or terminate your Order if you repeatedly fail to take delivery of the Product.
Bounced parcels that are unclaimed after half a year will be deemed as DressingPaula's property and no compensation will be offered as sufficient response time has been given.
STORE CREDIT
Store credit is credit that you can use towards the purchase of an item from our Site. It comes in the form of an electronic voucher. Store credit is valid for 1 year from its date of issue. Store credit is strictly non-refundable, non-extensible and non-transferable.